1. Pilates Method
Pilates is a training for body and soul which is able to be practiced on mats or with apparatus. With the integration of the 8 moving principles the body gets stronger, sleeker and a muscular balance will be achieved contributing to a correct posture.
An important part of this method is to strengthen your inner core (power house) which contains stomach, pelvis and back muscles. A strong inner core protects the spine and enables the moving muscles the freedom needed to do their job correctly.
2. For who is Pilates for?
Pilates is for everyone, young, old, athletes, fit, and the not so fit and even couch potatoes. Because Pilates is taught in smaller groups, two people or private, this gives me the opportunity to find the most effective program for each individual client. Dancers, models and many athletes (Andy Murry) have discovered the Pilates method and used it to balance and strengthen their bodies.
3. What does Pilates do for you?
Corrects your posture
Strengthens the inner core (power house)
Strengthens your muscles and brings them into balance
Challenges the functions of the heart and lungs
Good circulation and metabolism
Reduces stress
Gives you a lean figure
Helps joint and back pain (scoliosis, osteoporosis etc.)
Improves balance and co-ordination
Better flexibility
Increases your own body awareness
Improves and helps keep bone density
Oxygenates the blood and helps discharge accumulated toxins through correct breathing
4. Pilates and pregnancy
Pilates is an optimal training to keep you fit during pregnancy. It strengthens the deep muscles that will be required and over stressed during the pregnancy and birth. Pilates works against the typical back pain often felt during pregnancy. Another important element of the exercises is the concentration on breathing. Well trained breathing also helps to relax during the birth.
Post natal
Pilates helps the body after giving birth to bring the deep muscles through slow and strengthening exercises back into balance. The pelvic floor will become stronger. Special exercises, with the help of transverse abdominus and oblique abdominius, will help tighten the over stretched abdominal wall again.
5. Pilates for the older generation
Pilates helps keep mobility with specific exercises, directed at common complaints often experienced in old age (osteoporosis, orthopedic problems etc.) By strengthening muscles associated with posture and becoming aware of weight distribution, joint problems will be alleviated.
Questions?
You can reach me by phone or email.
Contact me
About me
I first came into contact with Pilates in 1997 and since then it has been an important part of my life.
Learn more about me
History of Pilates
Learn more about Pilates, its founder, and how it has evolved over the years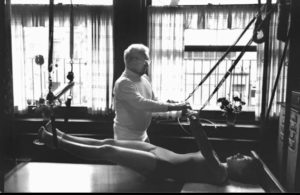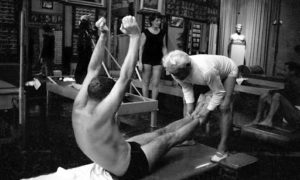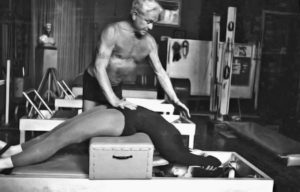 Joseph Hubertus Pilates was born on the 8th December 1880, in Mönchengladbach, near Düsseldorf. As a child he suffered from rickets, asthma and rheumatic fever. That was the reason he started early with body training, gymnatics, body building and skiing. He was very interested in far eastern methods such as yoga and zen meditation.
In 1912 he went to England and earned a living as a boxer, a circus performer and trained Police Officers for Scotland Yard in self-defense. As a German he became interned in England during WWI. In this time he began his concept that he then called "Contrologie" and taught the other prisoners. It is said that all the people he worked with survived the influenza pandemic of 1918 due to strong body constitution.
After the war Pilates returned to Germany. At the time he worked with Rudolph von Laban, a visionary of movement and modern dance. Because he trained the police of Hamburg, he was requested to train the German army. Unhappy with the political situation in Germany he decided to emigrate to New York.
On the boat to New York he met the young nurse, Clara. She became his wife and helped develop his method. In New York success came quickly. A lot of his clients were from New York's high society, such as Vivien Leigh, Katherine Hepburn & Sir Lawrence Olivier. People of all different backgrounds were his clients.
At this time the dance scene discovered him. He taught stars from the dance world, George Balanchine, Ted Shawn, Ruth St. Dennis, Martha Graham, Hanya Holm. Many of his first generation teachers, such as Carol Trier, Eve Gentry, Romana Kryzanowska, Ron Fletcher, Kathleen Grant, Bruce King, Lolita San Miguel were his dance clients.
Joseph Pilates worked individually and was extremely creative. He designed special exercise programs for his clients. He taught into old age and wrote books about his method. He died at the age of 84 in New York.