1. The Pilates Method
The Pilates Method is a set of exercises developed by Joseph Pilates. Pilates is a total-body and mind workout that can be done on the mat or with Pilates equipment. The body is strengthened, suppleness is increased, muscular balance is achieved, and posture is improved by incorporating
the 6 principles of movement
. Strengthening the center (also known as the "power house" or "source of strength"), which consists of the abdominal, pelvic, and back muscles, is an important part of this method. A strong center protects the spine while allowing the movement muscles to move freely.
---

2. Who is Pilates for?
Pilates is suitable for everyone, whether they are young or old, fitness enthusiasts or elite athletes. Pilates can be taught in small groups, two-person groups, or privately, allowing instructors to respond to each client individually. Dancers, models, and a variety of athletes (including tennis player Andy Murray, footballer Cristiano Ronaldo, actor Sylvester Stallone, and pop star Madonna) have all discovered the Pilates method and use it to help them balance their bodies and strengthen their deep muscles (so-called "power source").
---

3. What does Pilates do for me?
Improves posture
Strengthens the deep muscles ("powerhouse" / "source of strength" / "body center")
Strengthens the muscles and brings them into balance
Promotes the function of lungs and heart
Stimulates blood circulation and metabolism
Reduces stress
Creates a slim waistline
Helps with joint pain, back pain, scoliosis, osteoporosis, etc.
Increases balance and coordination
Increases flexibility
Increases self-awareness
Maintains and improves bone density
Provides fresh oxygen to the blood and removes accumulated pollutants through proper breathing
---

4. Pilates in pregancy
Pilates is an optimal workout to keep fit during pregnancy. The deep muscles are strengthened. These are particularly stressed during pregnancy due to the growing baby bump and during childbirth. Pilates prevents the back pain typical in pregnancy.
Another important element of the exercises is the concentration on breathing. This is also very helpful as preparation for the birth. The steady, calm inhaling and exhaling trained in this process facilitates the labor phases. Many exercises are done in a quadrupedal position, which is ideal for pregnancy. In this way, the back and pelvic area are relieved.
Regression with Pilates
Pilates helps the body to rebalance the deep muscles after childbirth through slow and strengthening exercises. In this way, the pelvic floor muscles are strengthened and built up again. Special exercises for the transversus abdominis and the oubliquus abdominis help to tighten the overstretched abdominal wall again.
---

5. Pilates for the elderly
Pilates helps to maintain mobility even in old age. With adapted training, age-related complaints can be counteracted in a very targeted manner (osteoporosis, orthopedic problems, etc.). Strengthening postural muscles and raising awareness of optimal weight distribution counteract joint problems.
It is never too late to start. Get in touch with us!
---

Questions?
You can reach me by phone or e-mail
Contact me
About me
I first came in contact with Pilates in 1997 and since then it became an important part of my life.
Learn more about me
History of Pilates
Learn more about Pilates, its founder and its evolution over the years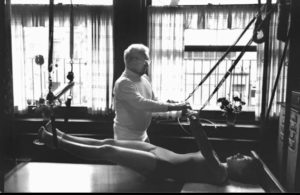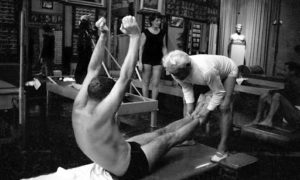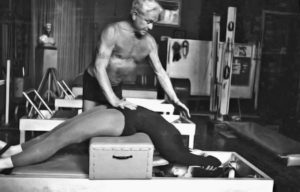 Joseph Hubertus Pilates was born in Mönchengladbach, near Düsseldorf, on December 8, 1880. He was afflicted with rickets, asthma, and rheumatic fever as a child. As a result, he began to devote himself to physical training at a young age. He enjoyed gymnastics, bodybuilding, and skiing, as well as Far Eastern techniques like yoga and Zen meditation.
Joseph Pilates visited England in 1912. He made a living as a boxer, a circus performer, and a self-defense instructor for Scotland Yard officers. As a German, he was interned at the beginning of the First World War.
He began to develop his holistic physical training concept, which he dubbed "Contrology," and taught it to his fellow inmates during this time. Because of their strong physical condition, these internees are said to have survived the 1918 influenza pandemic.
Joseph Pilates moved back to Germany after the war. He went on to work with Rudolf von Laban, a movement visionary and modern dance pioneer, among others. Pilates was asked to teach members of the German Army in 1925 after he had trained Hamburg police officers. He decided to emigrate to New York in 1926, dissatisfied with the political and social conditions in Germany.
Along the way, Pilates met Clara, a young nurse. She married him and helped him develop and teach his method. He quickly made a name for himself in New York. Among his clients were members of New York's high society such as Vivien Leigh, Katharine Hepburn, and Sir Lawrence Oliver. Pilates worked with people from a wide range of professions, including actors, musicians, doctors, circus performers, and office workers.
Pilates also gained popularity in the dance world. He trained dance legends such as George Balanchine, Ted Shawn, Ruth St. Dennis, Martha Graham, and Hanya Holm. His dancer clients included Carola Trier, Eve Gentry, Romana Kryzanowska, Ron Fletcher, Kathleen Grant, Bruce King, and Lolita San Miguel, among others.
Joseph Pilates worked in a highly individual and creative way. Thus, he often put together specific exercise programs for his clients. He practiced his method until old age and wrote books about it. Joseph Pilates died in New York at the age of 84.